Instruction is provided by exceptionally well qualified experts in a variety of fields. All of our instructors understand the needs of undergraduate students, and are dedicated to providing additional guidance outside of class.
Students enrolled in the English Writing for Non-Native Speakers course will also receive one-one-one tutoring to improve their English skills.   
Class size is limited to ensure participation in discussions and access to equipment; students are encouraged to apply early.
UC Berkeley's 22 Nobel Prize winners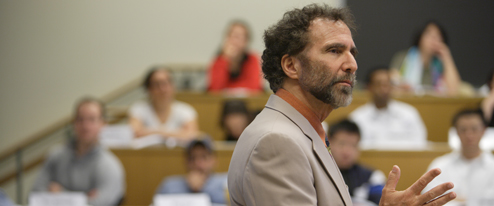 Current Faculty Nobel Laureates at Berkeley
2013 - Randy Schekman (Physiology)
2011 - Saul Perlmutter (Physics)
2009 - Oliver E. Williamson (Economics)
2006 - George F. Smoot (Physics)
2001 - George A. Akerlof (Economics)
2000 - Daniel L. McFadden (Economics)
1986 - Yuan T. Lee (Chemistry)
1964 - Charles H. Townes (Physics)
Deceased Faculty Nobel Laureates
1994 - John C. Harsanyi (Economics)
1983 - Gerard Debreu (Economics)
1980 - Czeslaw Milosz (Literature)
1968 - Luis Alvarez (Physics)
1961 - Melvin Calvin (Chemistry)
1960 - Donald A. Glaser (Physics)
1959 - Owen Chamberlain (Physics)
1959 - Emilio G. Segre (Physics)
1951 - Edwin M. McMillan (Chemistry)
1951 - Glenn T. Seaborg (Chemistry)
1949 - William F. Giauque (Chemistry)
1946 - John H. Northrop (Chemistry)
1946 - Wendell M. Stanley (Chemistry)
1939 - Ernest O. Lawrence (Physics)