Program Faculty
Federico Casalegno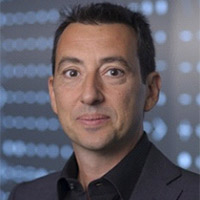 Federico Casalegno
Massachusetts Institute of Technology
Associate Professor of the Practice
Director of the MIT Mobile Experience Lab
Federico Casalegno, Associate Professor of the Practice, is the Founder and Director of the MIT Mobile Experience Lab at the Massachusetts Institute of Technology, SHASS, program in Comparative Media Studies. He has been awarded honorary professorships by the Glasgow School of Art, University of Glasgow and the Jiangnan University School of Design in Wuxi, China. He holds a Ph.D. in Sociology of Culture and Communication from the Sorbonne University, Paris V, with a focus on mediated communication and social interaction in networked communities and wired cities.
A social scientist with an interest in the impact of networked digital technologies on human behavior and society, Prof. Casalegno both teaches and leads advanced research at MIT, and designs interactive media to foster connections between people, information and physical places using cutting-edge information technology.
Between 2004 and 2011, he had a position as Lecturer at the MIT Media Lab Smart Cities group and from 2006 until 2011 co-directed the MIT Design Lab with Prof. William J. Mitchell.
From 2004 to 2007, he worked at Motorola, Inc. as a Technology and Product Innovation Analyst, designing pioneering products, experiences and services for mobile devices. Previously, from 1994 to 2000, he worked at Philips Design on connected communities and new media environments to inform design and product experience planning.
He has published several scientific papers in peer-reviewed journals, books and articles. For the Living Memory connected community project he was awarded the Best Concept prize by the American Leading Industrial Designers I.D. Magazine, and the Silver Prize Design Concept by the Industrial Designers Society of America (IDSA).